That's right, OneStepCheckout turned 10 already, so we thought we'd share the story of a merchant who's been with us from the start in 2010 on Magento 1 and all the way until now on Magento 2.

Better Batt sells batteries for consumer electronics (smartphones, laptops, drones, cameras) as well as printer inks and toners. Liam McCarroll, its founder and technical lead, shares with us his thoughts about these last 10 years in eCommerce, with Magento and OneStepCheckout.

Batteries: a fast growing market, boosted by the COVID pandemic
According to Verified Market Research, the Lithium Ion battery market is forecast to grow at 15% CAGR between 2020 and 2027 with a global market reaching USD 115Bn. The growth is driven by increasing consumption of consumer electronics and smart devices. This is no different in the Australia New Zealand region which tends to be on the technology early adoption side.

However, with the COVID-19 pandemic striking in Q1 2020, future growth was suddenly thrown into question with many long established businesses in many industries were forced to close their doors due to government restrictions.

Luckily for Better Batt, warehousing and logistics were exempt from tough lockdown measures and able to continue operating at a reduced capacity. With schools closed and many people forced to work from home there was a sudden surge in demand for high quality laptop batteries at a reasonable price. This mitigated the decline from school and government accounts which Better Batt also services. 

As Liam McCarroll, puts it: "a small victory in these strange times".

Better Batt, a 100% Aussie success story
Let Liam McCarroll share with you a story about their humble beginnings…

"In June 2004 I needed a new battery for my Sony camcorder. I first contacted the store where I bought the camcorder and I was quoted $300 for a battery. I couldn't believe it. The camcorder had only cost me $900 and I wasn't going to pay 1/3 of that just for a new battery.
I went searching for alternatives and before long I found a supplier overseas who could supply the exact same battery for $50. I bought two batteries with the intention of keeping one and selling the other. The rest as they say, is history. Shortly after, Better Batt was founded and we've been in business ever since.
Our goal now is simple: to cut the confusion out of buying a product; to save our customers a ton of money compared to the retail stores and major brands; to educate our customers so they can make an informed buying decision when choosing a new product."

Today, the Better Batt online store focuses on key differentiators:

Outstanding customer service – easily reachable by phone, email and live chat, boasting thousands of positive reviews (96% positive over 5700+ on Google review)
Australian owned and operated – the company is based in Melbourne, Victoria, that supports the local economy by creating jobs and paying taxes in Australia
10 year look back on eCommerce

When we ask Liam about what worked well and what he would have done differently, these are the thoughts he shares:

"Ten years ago when we first started using OneStepCheckout on Magento 1, it felt like we'd already been in the e-commerce business forever. We'd been at it for around 6 years which, to a young entrepreneur, seemed like an eternity.
Now, looking back, I realise that we were pioneers of e-commerce in Australia. Many of the struggles that we faced were simply because the market hadn't yet matured.
What worked was dominating a small, profitable niche and providing discount products compared to the retail stores by cutting out the middleman and importing directly from the manufacturer.
If we could go back in time, I'd recognise the fact that we were pioneers in e-commerce and focus on dominating e-commerce in Australia, much like Amazon has done in the US, rather than just one niche."

Why did Better Batt choose Magento?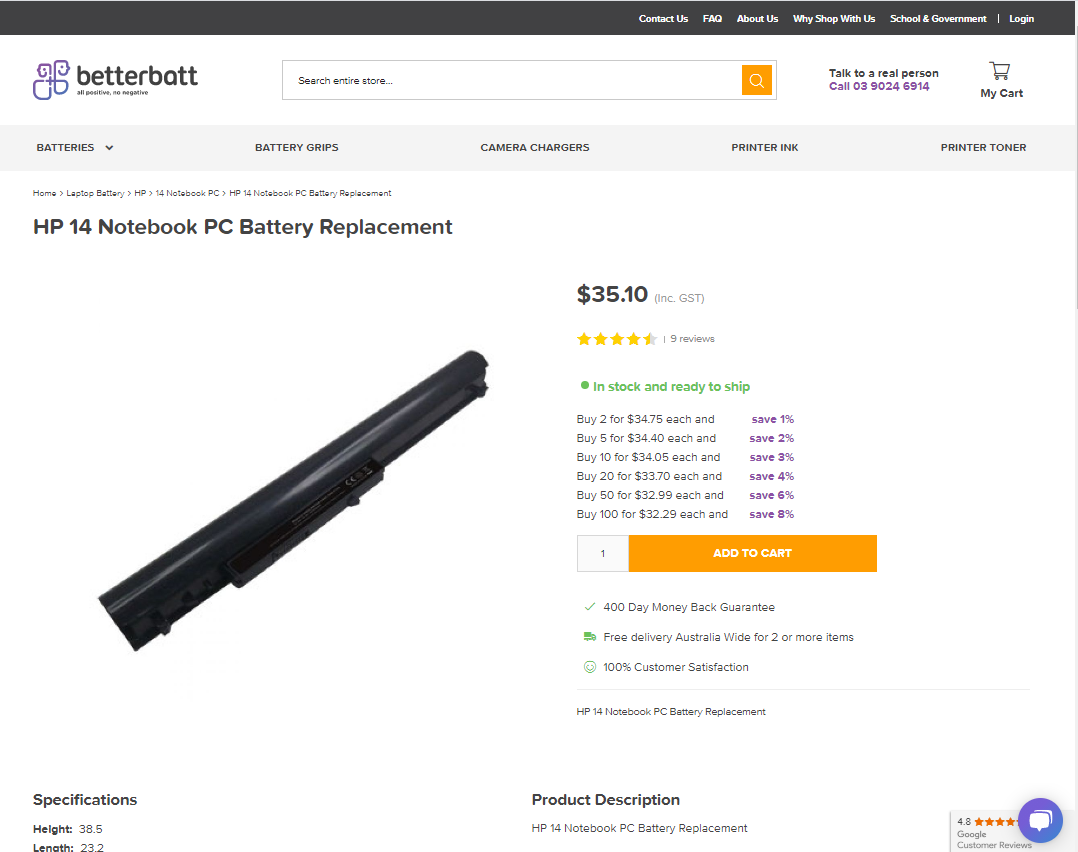 10 years ago, Magento 1 was a no brainer. It was the most popular platform because anything could be done with Magento 1, from the simplest to the most complex. Magento also already gathered a large community and a rich ecosystem to draw from. That's why Better Batt picked that eCommerce platform. It was a safe and easy bet.

10 years later, it's time to upgrade. Magento 2 was a natural choice because the Better Batt team was already familiar with the Magento 1 environment and the range of third party vendors like OneStepCheckout. 

Magento 2 is leveraging learnings from Magento 1 and was developed to further add scalability and performance and that's what they were after.
Magento 2 migration challenges
Key challenges with the Magento 2 migration were the theming but Better Batt's technical team was savvy enough to shape the whole user experience the way their customers want. A few bugs are to be expected but with advance planning and knowledgeable vendors, they were able to launch their Magento 2 store in Q1 2020.

Better Batt's top tips for a smooth migration from Magento 1 to Magento 2 are:

Give yourself plenty of time
Make a selection of the features you want to keep, check if they are available by default in Magento 2 or through a reputable third party extension
In Better Batt's case, easy access to customer service and a frictionless checkout experience are the priority
Take the opportunity to clean up, simplify and clear the path so the user experience is top notch
Test, test, test before going live
Why OneStepCheckout
Great experience on Magento 1
Better Batt has been using OneStepCheckout since 2010 and the Magento 1 extension never failed. It dramatically improved the online sales conversion rate making both their customers and their business happy.

With Magento 2, their objective was to deliver the most friendly and intuitive experience. They knew their customers enjoyed the checkout experience they had so far so they were happy they could recreate the same even with the platform change.

Continuous innovation on Magento 2
Now they're even happier about it because OneStepCheckout keeps improving their product with new features and follows Magento 2 frequent new releases too. They know that if they want to extend their checkout with more functionalities, or find new payment and shipping providers that meet their needs, it will work with most third party solutions.

As an example, they chose to use the Address Finder service that autofills address fields with verified postal addresses in Australia and New Zealand and it worked brilliantly with OneStepCheckout. The two combined made it even more intuitive and easy for their customers to check out. Read more about Address Finder x OneStepCheckout combo.

Responsive and knowledgeable support
Over the 10 years they've been using OneStepCheckout, they used it on several additional online stores they launched. They also reported bugs and issues, and every time got a great response from the OneStepCheckout support team whether it was a quick fix or required a deep dive.
"OneStepCheckout takes a complicated multi-step process that frustrates shoppers and turns it into an elegant, easy, one page process that increases conversion and makes the checkout faster. That's not why we chose OneStepCheckout though.
When you implement an extension to override the default Magento checkout flow you want to make sure it's reliable, fast and backed by world-class support because even a minor bug affecting only a small percentage of users could end up costing you thousands in lost revenue.
There are many extensions out there that claim to be a "one step checkout" for Magento, however, if a developer worth their salt were to inspect the code they'd be horrified. The official OneStepCheckout is well designed and coded so you can be sure your checkout works as expected."

– Liam McCarroll – Founder, Better Batt Pty. Ltd.
Top tips for Magento 2 stores
Better Batt had set some very strong values early on that guide how they work across the various departments of the company. Turns out those value apply perfectly to the set up and continuous improvement of their online store:

1. Be healthy
That's even more true for their technical team led by Liam. When preparing for a big go live, you're tempted to stay in your cave, all eyes on screens and all fingers on keyboards. However, you never value enough what a bit of fresh air can provide. Natural light is good for your eyes and your brain. A change of scenery will often be exactly what you need to find the solution to a problem you've been staring at all day.

2. Be honest
A majority of issues and frustration are due to poor communication. Although it might feel hard to do at first, it is important to let feelings out and speak your mind.

If you try and hide bugs and issues, it's not going to go away. By being open and honest, you will find the solution, with the help of others.

3. Be interdependent
As per above, when everyone takes full responsibility and puts the team first, projects tend to go smoothly and the level of stress decreases.

4. Be ambitious
As a business they have goals, make plans and reach for the stars. Their key differentiator and driver for growth is found when they put the customer first.

5. Be respectful
In an environment where everyone is warm and friendly, you can ask for help, you can be open and honest, you can drive activities to meet your ambitious plans.

Similarly, they set up a range of channels to let customers reach out to them and by always treating them with respect, not only do they make them become loyal, the customers also provide feedback so they can further improve their assortment, service or website feature so as to attract even more customers.

6. Be a learner
Technology is the area where things move fast and what you learn one day becomes quickly out of date. That's the case for the Magento platform but also all the tools around their online store that drives traffic, increases conversion and optimizes their operations.

As such every employee is encouraged to take classes, attend workshops and expand to doing things they once thought impossible.

"Running an e-commerce business is filled with challenges but the rewards are worth it. With the support of high quality extensions like OneStepCheckout you can dramatically reduce the development time and headache of going it alone."

– Liam McCarroll – Founder, Better Batt Pty. Ltd.