OneStepCheckout for Magento 2
Coming soon
What is Magento 2
Magento 2 also offers enhanced performance and scalability, new features to boost conversion rates, and business agility and productivity improvements. The new platform also builds on Magento's open source heritage and offers unmatched flexibility and innovation opportunities. That's why it makes sense for One Step Checkout to develop a version that will works beautifully with Magento 2.
Why choose OneStepCheckout for M2?
We took the market by storm back in 2010 launching the first extension that simplifies your checkout in order to reduce cart abandonment and improve sales conversion. Ever since we've been solely focused on improving our OneStepCheckout product.
With over 19,000 customers purchasing our product so far we have made our product compatible with thousands of other extensions including payment provider, shipping providers and combinations of those! Our technical team is the best and that's what you need to make Magento 2 work for your business.
We are currently testing our beta version, and a final release for customers is coming soon.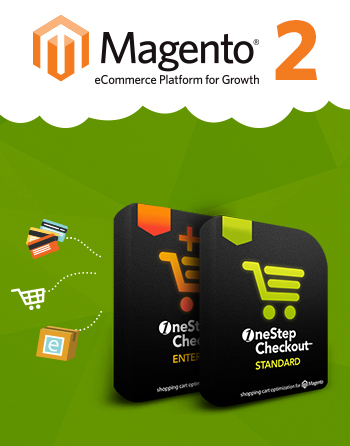 Get notified when we are ready!
Product information
OneStepCheckout is constantly adding new product features as technology evolves. With the version for Magento 2 being built as we speak, you can be sure that all the improvements and fixes performed to date will be included both to make it easier and quicker for your customers and for yourself.
Here are some of the top product features for OneStepCheckout for M2:
Form filling made easy
One page with all the information to fill out visible at a glance above the fold
Dynamic update of the order totals and tax information as client fills the addresses and makes payment and shipping decisions
Direct methods for adding discounts and giftcard information on checkout
Auto-complete addresses with Google Places
Total control over address forms
Redirect directly to checkout after adding product to cart
Responsive checkout by default
Extra customisation options
Enable/ Disable customer registration at checkout and allow guest checkout for registered users
Automatically create account for new email addresses and handle e-mail subscription
Additional popup after placing order for extra confirmation
Powerful control over default settings on shipping and payment methods
Supports UPS/Fedex shipping methods with external lookup
Built-in delivery date feature with date picker (calendar) and instructions field
Multiple ways of detecting user location with GeoIP lookup
OneStepCheckout for Magento 2 Standard and Enterprise editions
There are two editions to choose from based on your platform and your needs:
OneStepCheckout Standard edition

if you are running on the Magento Community edition.

OneStepCheckout Enterprise edition

if you are running on the Magento Enterprise edition.
OneStepCheckout for M2 is a new product line. The pricing structure will be announced before launch. We will of course have nice discounted upgrade paths for our existing customers.