Product
Checkout module for Magento - OneStepCheckout - One Page Checkout

What is OneStepCheckout?
OneStepCheckout is an extension that simplifies the checkout process of your Magento store
OneStepCheckout is the single most effective technical change you can make to reduce shopping cart abandonment. OneStepCheckout combines all six Magento steps into one and removes all unnecessary fields and questions. Plus, data fields are dynamically updated via AJAX. Improving the checkout process results in more customers completing their sales, driving an immediate impact on your bottom line.
Based on your platform set up and requirements, we offer two editions of OneStepCheckout. Hover over each product to read about each edition:

€

245
Order Now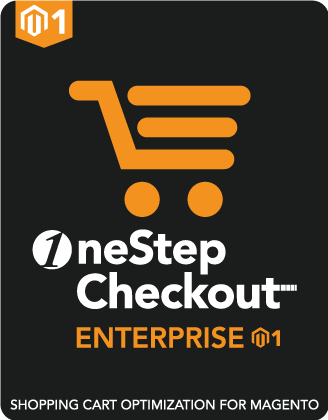 This OneStepCheckout License has been specifically designed to meet the needs of Magento stores running on Magento 1 Enterprise Edition.
This License includes:
OneStepCheckout Software supporting all additional features of Magento Enterprise such as loyalty points, credits, gift registry etc.
Separate domains for development/testing

€

530
Order Now
Community and Enterprise Edition
We offer two editions of our checkout module: Community and Enterprise
Our one page checkout module is available in two editions: Community and Enterprise.
Both editions of our Magento plug-in simplify your checkout experience in order to reduce cart abandonment and increase your sales conversions. We have matched our License editions to the editions of the Magento platform that you are running on your online store.
OneStepCheckout Community Edition supports all the latest versions of the Community Edition of the Magento eCommerce platform (CE).
OneStepCheckout Enterprise Edition support all the versions of the Enterprise Edition of the Magento eCommerce platform (EE). It supports additional features like loyalty points, credits, gift registry etc.
How it works: 6 to 1
One single page above the fold with all the information you need at a glance
Best in class user experience is achieved when you simplify your checkout page to the maximum, that means: removing all necessary fields, helping users fill in their details quickly and accurately, and recalculating the order total each time they change quantity, shipping or payment options.
Native Magento Checkout
The standard Magento checkout process.
Six steps to completion.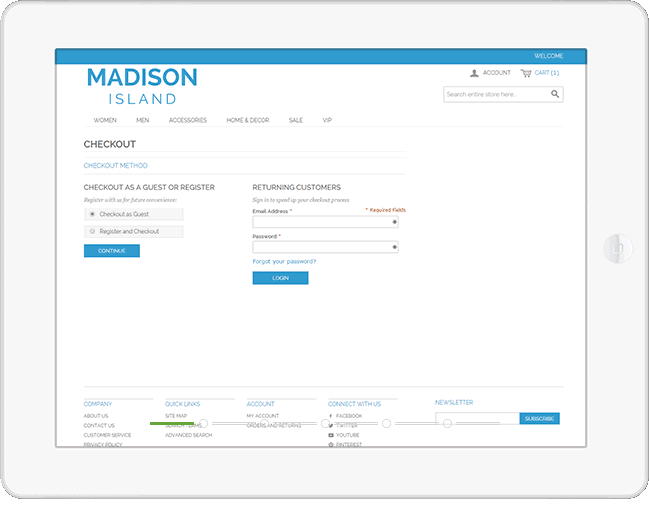 OneStepCheckout
The OneStepCheckout. A single step to
completion.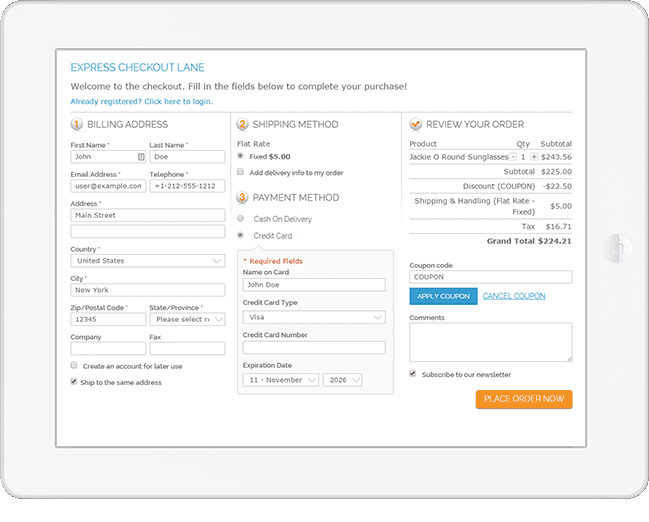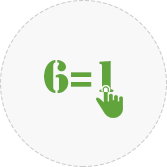 Live Demo
OneStepCheckout product features
Our product offers all you need to ensure best in class user experience both for the shopper and for the merchant
Checkout is the most critical process of your business. Don't compromise and offer the best. We are not a traditional Magento module provider with a lot of extensions. Our checkout module is our core business, giving us the power to provide you best practice on how to make checkout faster and easier for online shoppers.
We also understand your business needs so we make it possible out-of-the box to configure and customize it the way you want. Every merchant is different so we give you the option to decide which fields to exclude in your checkout. We also ensure is that whatever you feel like adding integrates perfectly with your checkout: shipping options, payment methods, gift messages, loyalty points, "how did you hear about us", delivery date picker…you name it!
OneStepCheckout key features
OneStepCheckout has added features over the years based on our experience on the market and feedback from thousands of Magento merchants. We are obsessed about removing friction for shoppers and make it flexible and easy to customize for merchants. Our extension includes but is not limited to the features listed below.
General UX Features

Field Management

Review & Cart

Shipping and Payment

Customization
Checkout on a single page above the fold

Responsive on mobile devices

Country auto fill with GeoiP localisation

Address autofill and verification with Google Places

Auto-update prices and totals when changing quantity, shipping/payment method
Disable unnecessary fields like fax, company, telephone, region and more

Separate house number from street address

Choose the order the address fields appear

Allow gift messages for the order

Built-in delivery date feature with date picker (calendar) and instructions field
Redirect customer to checkout immediately after product to cart

Have customers double-check their order with a "Review your order" popup

Possibility to change quantities of products ordered directly in the checkout

Enables "How did you hear about us" to obtain referrer information

Display additional products for customer in checkout, like "Rush fee" and "Gift wrap"
Set a default shipping/payment method

Auto-update available shipping rates when user chooses country, zip code or region

Auto-update available payment methods when user chooses shipping method

Possibility to hide shipping method option if only one available

Compatible out of-the-box with 99% of extensions that follow Magento API for shipment and payment functionality
Easy installation

PSD of all graphical elements for easily customization to your language

Multiple registration scenarios including auto-registration

Advanced support for Google Analytics features

Completely refactored CSS for simpler customizations
<! -- cont end ( div start on product_comparison_section block ) -->
Magento Compatible And Fully Customizable
OneStepCheckout is easy to install, customize and integrates with your preferred extensions
Easy to install
OneStepCheckout is packaged like any regular extension for the Magento Commerce platform. Our extension does not overwrite any core files or override any core functions. When you've purchased our module, you get access to our Download area where you can download a ZIP-file that contains the software. This ZIP-file can be extracted directly in your Magento directory. Once installed, new checkout settings appear automatically in the backend administration.
Easy to customize
OneStepCheckout is easy to customize. The code is well documented and the design / layout are structured exactly like any other Magento template. Our interface will be familiar to all Magento technicians. It is also possible to further customize functionality. All of the code is unencrypted and includes comments to help your developers get familiar with OneStepCheckout.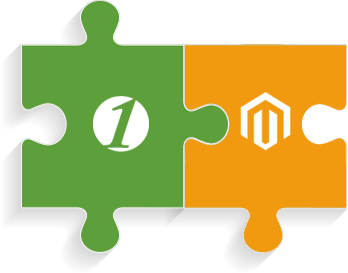 Compatible out-of-the-box with 9/10 third party services
OneStepCheckout has been cleverly coded so that it is compatible out-of-the-box with any third party extension that follows the Magento guidelines. With over 19,000 customers across many countries, we cater for a huge combination of payment and shipping providers.
Sometimes it gets more complicated. But we allocate 100% of our resource on checkout for Magento, that's 25,000 hours solely dedicated to support and development of our OneStepCheckout product, by the same developers since launch in 2010.
With that, You can be sure that our product is compatible with all your preferred shipping/payment providers as well as other useful extensions like Authorize.net, Ingenico ePayments, PayPal, Braintree, SagePay, X-Payments, shipping providers like UPS, Fedex but also other useful extensions like Sweet Tooth, Mage Credit, PCA Predict etc… you name it!
In fact, as OneStepCheckout has become so mainstream, that we find that other extensions and providers are the one reaching out to us to make sure they are compatible with us. In the unlikely event our extension is not compatible straight away, we will work with the third party to fix that for you, free of charge.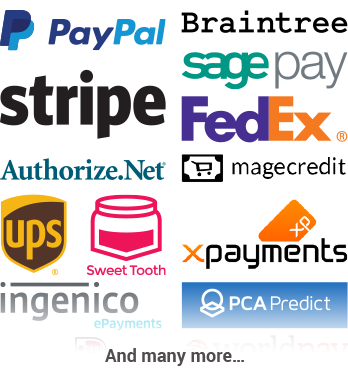 Order Now
Responsive Checkout
Providing the best user experience on all devices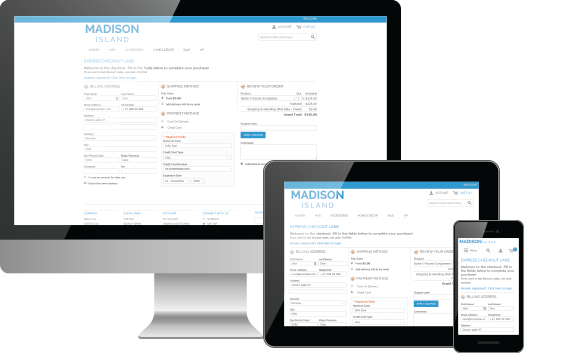 An increasing number of online shoppers browse on mobile devices like smartphones or tablets. However merchants find that their conversion rate on those devices is much lower than that on desktop.
With OneStepCheckout we remove all the pain points that make shoppers leave the site and never come back. No more pinch and zoom, no more waiting for pages to load… 6 times. Instead we have implemented bigger buttons, all is on one page and we autofill as many fields as we can to make it quicker to complete forms.
Want to see it live? Go to our Demo and click "Responsive Resizer" at the very top of the screen.
Live Demo
OneStepCheckout for Magento 2
Keeping up with the latest technology
Our OneStepCheckout extension will soon support the Magento 2 eCommerce platform. It will come in two editions: Community and Enterprise.
Click below to read more more details including the product features.
Read More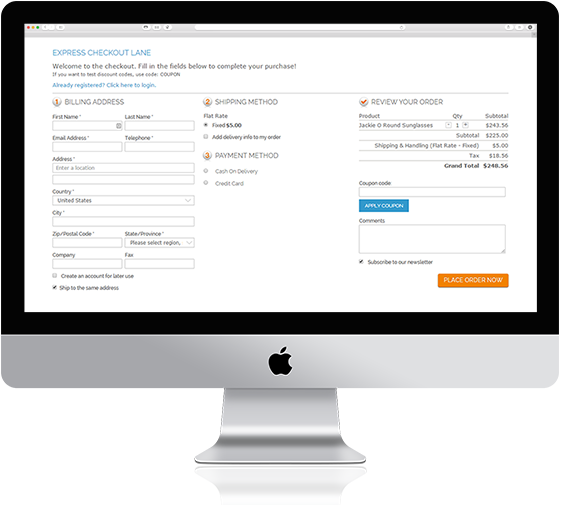 OneStepCheckout Demo
Visit our online demo and see for yourself how quick and easy your checkout can be for your customers
The best way to have a feel of what your shoppers will experience is to have a play with our live demo. Simply click the button below, click "Add product to cart" and you can see our single checkout page. Our Responsive Resizer will show you how the page renders on various mobile devices. Enjoy!
Live Demo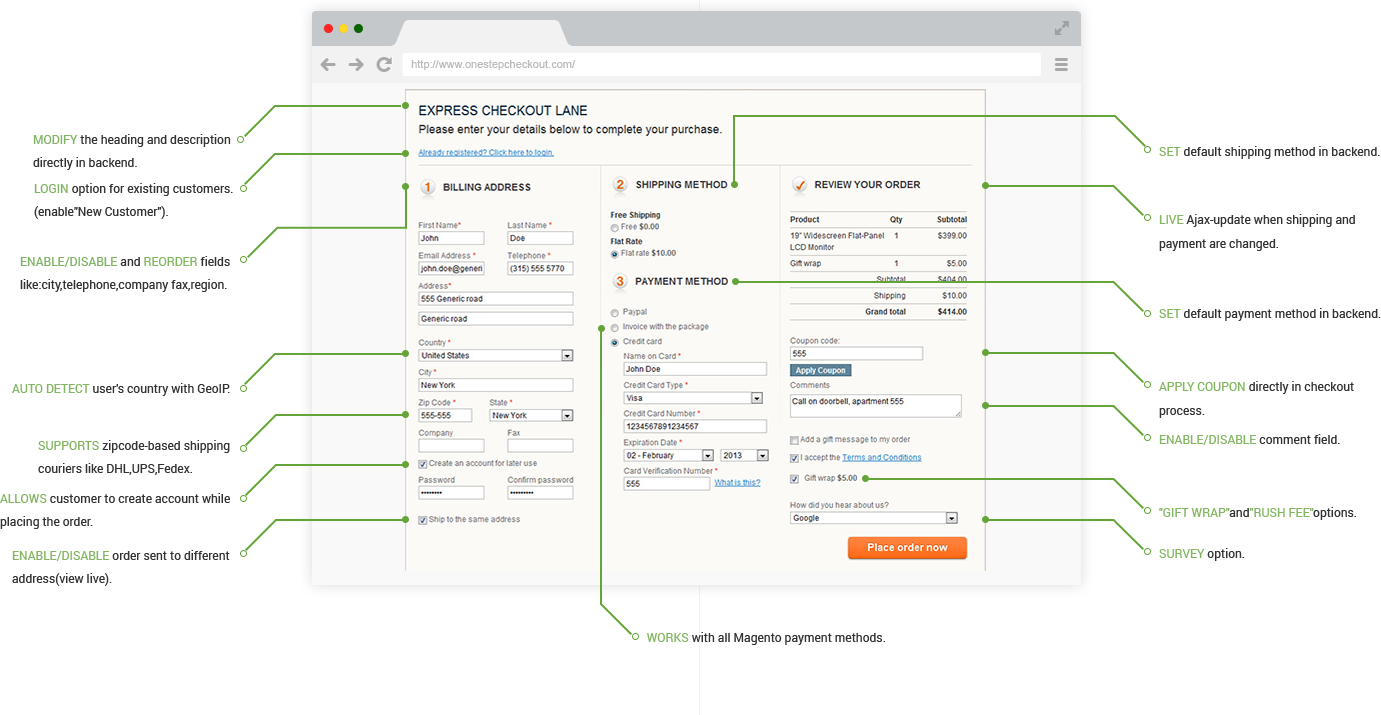 Admin Control Panel
Have full control of your checkout functionalities to suit your business needs
A variety of customizations are possible. You can choose a default country, shipping method and payment method. You can exclude fields like city, telephone, company, fax and region. You can decide whether to show or hide checkboxes for newsletter subscription or for approving terms and conditions. You can also enter the titles and descriptives texts without touching any templates …and lots more!
OneStepCheckout for Magento 1 Pricing
Get the legendary OneStepCheckout experience with the Software License and Support & Update Plan
Checkout is the critical function of any eCommerce site that you should never compromise with. With OneStepCheckout, not only do you get a rock solid software but you can also take advantage of our Support and Update Plan (SUP) that gives you direct access to our team of experts as well as software updates, patches, bug fixes etc.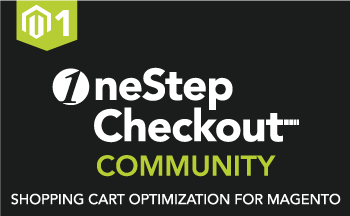 Software
Compatible with Magento 1 CE
One domain included
€

245
+
Support and UpdateValue Plan
€

10

per month
First 12 months included!
Sign up
Extra services:

Additional domains: €75 per domain

Installation: €70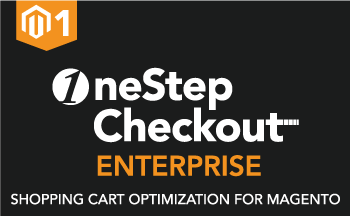 Software
Compatible with Magento 1 EE
One domain included
€

530
+
Support and UpdateValue Plan
€

10

per month
First 12 months included!
Sign up
Extra services:

Additional domains: €75 per domain

Installation: €70
Examples of live OneStepCheckouts
OneStepCheckout has become a household name in the Magento ecosystem






OneStepCheckout is a leading extensions with over 19,000 installations on Magento eCommerce websites. Estimated turnover for those customers of ours is over USD 8 Billion.
Over the years we have built our reputation and credibility as we allowed merchants of all industries across the globe to reduce cart abandonment and increase conversion.
OneStepCheckout is the experts' choice. We were very proud to have not one but two of our customers nominated as finalists to the Magento Imagine 2016 Excellence awards.
Show All
Order Now